Contents
Part I concerns family and name research: DRINGENBERG.
One central point of it is "dringenberg-history" - my family's chronicle from the 15th century till present. It is presented with some pictures in German. An English pdf-version is offered for download. History and pedigrees of other Dringenberg families are offered as well. For more details see below.
Part II are articles about interesting historical persons - called "My Favourites" (in German).
More about it
Invitation to English speaking people to find a lot of details concerning DRINGENBERG families in Germany - and (more and more) worldwide.
Sometimes you will recognise a "Union-Jack-Icon" as a symbol to find English hints.
Some other sources may be understood in spite of German text.
Headlines of some pages are bilingual. Please, use a short Guide below to understand this website's structure.
Do not hesitate to email in case of any question.
Guide
Navigation menu button "Familien" – then "Ahnenforschung" (means: my ancestors research) – leads to German articles about my family's history in the context of European history in general.
An English pdf-version is offered there for download.
On the other hand the button "Familien" – then "Namensforschung" (name research) – introduces to a lot of documents, sources and articles dealing with the family name DRINGENBERG in general - no matter whether belonging to my family or others' – worldwide.
Please try out the other menu buttons to find
1. some important historical persons named DRINGENBERG ("Personen")
2. some keywords to find relevant facts of DRINGENBERG research ("Sachregister")
3. towns and regions concerning DRINGENBERG history ("Geographie")
4. documents like pedigrees or pictures of historical documents ("Dokumente")
5. (later perhaps) useful links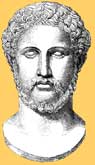 This logo brings you back to the central start page, whereas HOME means first page within Part I and Part II.
Enter Part I
Enter Part II